Blissy Silk PillowCase Review 2022- Is It Worth?
What is the one most important thing in our daily routine? It keeps us fresh and recharges us like the battery of our mobile. You got it right; it is sleep. Get perfect sleep by using the Blissy Silk PillowCase. Read our review on the same.
As we all know, if we sleep properly, we will stay healthy.
But do we sleep peacefully?
According to a survey, 27 percent of adults in the U.S. have trouble falling asleep, or they stay asleep most nights, or approximately 68 percent struggle once in a week at sleep.
We all understand how lack of sleep can affect our life whether they are kids who had a hard time studying or adults who can't concentrate on their daily routine.
Sad but true, deprivation of sleep can make you look like a zombie from Dawn of the dead.
Sleep deprivation can be the cause of some serious medical conditions, including heart disease, diabetes, and obesity; it can also shorten your life expectancy.
So a complete and peaceful sleep is a must for us all.
Now there could be many reasons for your lack of sleep, but one of them is the uncomfortable pillowcase.
Yes, your pillowcase plays an important role in providing you proper sleep and also in keeping your skin healthy.
Here's this marvelous pillowcase that definitely will help you sleep better and will recharge you properly for the next day.
So what is this Blissy Silk Pillowcase?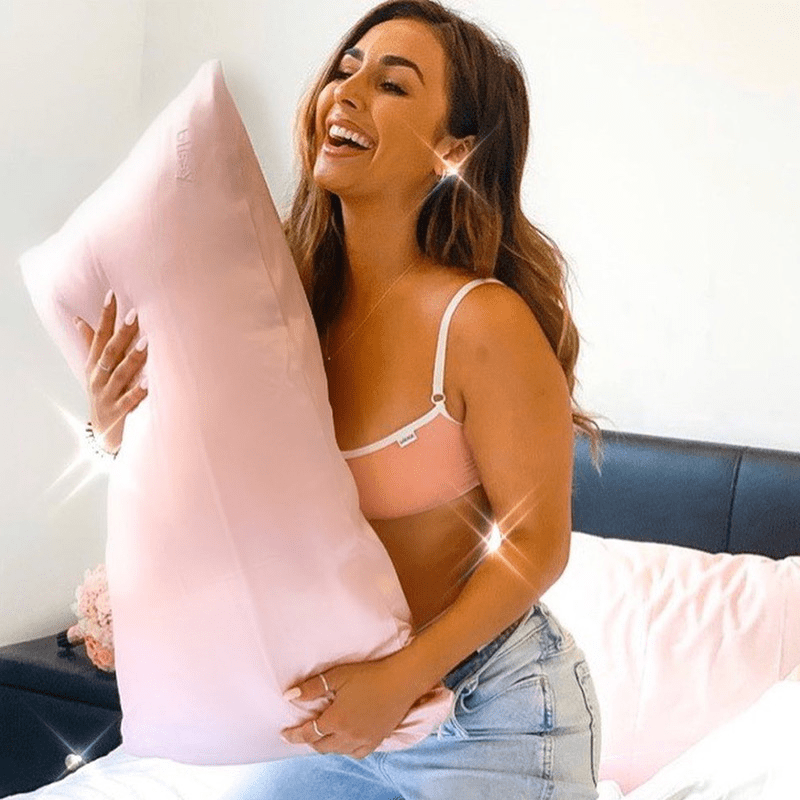 This is the Blissy silk pillowcase.
Blissy is a leading brand situated in Burbank, CA, and they are specialists in making Mulberry silk products like face masks, sleep masks, and hair scrunchies. They are making their products to help people improve their sleep.
The material used in the Blissy pillowcase is 100% Mulberry silk, which is skin-friendly and is also good for your hair.
This product is loved by supermodels, beauty experts, hairstylists, and dermatologists around the world.
Here we will take a look at why you should buy blissy pillowcases and also at some other products they sell.
If you wish to sleep properly or want to neutralize damage to your skin and hair caused by your regular pillowcase, then it's time to start using blissy.
Blissy pillowcases were founded by Vahe Haroutounian and Edgar Babayan in 2017.
Their whole idea was to create a nicer way to sleep after getting tired of waking up with bad hair, allergies, and bad skin. The conventional pillowcases we use are full of dust mites. To get rid of these issues, they developed Blissy pillowcases not just for themselves but others also.
It is proven that silk pillowcases help you get better sleep, as well as protect your hair and skin. When you sleep at night, that is the time when your body repairs itself mostly. Blissy pillowcase plays an important role by letting your skin cells repair themselves while you are sleeping and not damaging your hair further at night.
I kept wondering all my life how the actors of movies and daily soaps wake up so fresh and clean every morning; finally, I know.
Now think about what happens when you place your cheek on a pillowcase. The dead skin cells of your face, saliva, perceptions, bacteria, oils, and many other particles gather on it.
Whether you can see it or not, but your pillowcases are full of dust mites. When you wake up with congestion and sneezing, it is a sign that your existing pillowcase is infected.
These pillowcases are made with hypoallergenic fabric, which is safe for all ages. So it prevents any further damage to your skin and hair made by cotton and other fabrics over the years. Just like a screen guard or cover which prevents your mobile from getting damaged.
While using the silky fabric of Blissy's, consumers will experience that it keeps them cooled off during their sleep.
It maintains a cool and steady temperature which makes the brain rest better when it enters the REM cycle. As cool as those white walkers from Game of thrones.


What is the REM cycle?
REM is also called rapid eye movement sleep. It is the lightest phase, out of the 5 phases of sleep, where a person can wake easily.
The consumers of Blissy won't have to go through having difficulty in breathing or congestion because the main reason behind it, the dust mites are no longer home to your pillowcase.
Using Blissy can also improve your sinus problem, and you will notice a great improvement in the redness, acne, and inflammation on your face.
Traditional pillowcases pull hair and absorb the natural oils which cause dry hair, but with Blissy, that's not the problem anymore.
The silky fabric of Blissy prevents unnecessary tangles throughout your sleep.
How do Blissy works?
The main reason Blissy keeps dust mites away is the special protein found in silk materials. OMG, now even silk has special proteins, Man! I should start eating eggs again.
The pillowcases are made out of 22-Momme 100% Pure Mulberry Silk.
What is 22-Momme?
22-Momme is a weight measurement.
The best pillowcase weighs between 15 to 30 range of Mommes.
Silkworms are fed on Mulberry leaves only for creating this planet's best silk, and that's how the highest quality Pure Mulberry Silk is made for purchase.
Mulberry silk keeps your skin wrinkle-free while you let your head rest on it.
A hidden zipper with 6A long silk fiber is attached to this pillowcase so that the frictionless pillow stays through the night.
To ensure their durability and to fulfill their purpose, these pillowcases go through large-scale testing.
They are machine washable.
There are three different sizes of Blissy silk pillowcases:
Standard size.
Queen size.
King size.
Blissy pillowcases come in various colors like Black, White, Blue, Gold, Grey, Pink, Red, Light Marble, Lavender, Silver, Plum, Tie-Dye, Ash Blue, Matcha, Champagne, Taupe, Burgundy, Rose Gold, and Yellow.
Pros and Cons
Now the question is, how much do these wonderful pillows cost?
According to Blissy pillowcase's official website…
The standard size pillowcase is from $69.95 to $79.95.
Queen size pillowcase is $79.95.
King size pillowcase is $89.95.
These pillowcases are Oeko-Tex® certified, which ensures that they are eco-friendly, safe, and non-toxic.
Now let's check some other silky stuff from Blissy:
The scrunchies are also made of the same fabric as their pillowcases, 100% pure Mulberry silk. You can wear them in the daytime, but if you like to tie your hair while sleeping, you can as well as wear them at night.
These silky scrunchies slide off easily from your hair which Minimizes the chances of damage and breakage.
It comes in a 3 pack of Black, Gold, and Pink.
The price of Blissy 3 pack Silk Scrunchies is $39.95.
– Blissy Sleep Mask
The Blissy sleep mask is there to help you sleep when you are taking a quick nap in the daytime, or sleeping at night, or you are taking a nap on a long flight by not letting the light disturb your eyes.
This facemask provides a cooling effect and feels good on your skin because it is handcrafted from 100% Pure Mulberry Silk. The material is hypoallergenic, as mentioned before.
To carry the mask easily with you anywhere, a silk case is also included with it.
There are lots of options in colors to choose from Black, White, Blue, Gold, Pink, Silver, Red, Plum, Taupe, Yellow, Grey, Lavender, Tie Dye, Champagne, Light Marble, Matcha, Burgundy, and Rose Gold.
The Blissy sleep mask is priced at $39.95
Blissy Face Mask
Since Blissy face mask is made of 100% pure Mulberry silk, which is incredibly gentle to your face and hypoallergenic too. Not like regular masks, which cause acne and breakouts from the mouth and face.
It is easy to breathe while putting on these face masks, and they are washable and adjustable. In case you are sick, it will protect others from your breath.
These classy-looking masks are great to wear for any occasion.
The price of the Blissy face mask on its official website is $14.95.
Blissy Dreamset
To protect you while you're asleep, the Blissy Dream set includes.
Silk pillowcase
Scrunchie
Blissy sleep mask
Blissy skinny scrunchie
All of these products are non-toxic, eco-friendly, safe, machine washable, and hypoallergenic because they are made by 100% pure Mulberry silk, 22- Momme, and they are Oeko-tex® certified.
Blissy Dreamset comes in three sizes:
Standard – $119.95
Queen – $129.95
King – 139.95
It is available in Black, White, Silver, and Pink colors.
Blissy Sleep & Pillow Mist
It is a great product for those who had a hard time falling asleep because blissy sleep and pillow mist helps you relax and let's fall into sleep easily.
This product creates magic with its lavender and eucalyptus scent, which reduces stress and calms you.
It is made with a mixture of pure lavender and eucalyptus essential oils, so you don't need to worry about synthetic perfumes.
You can create a spa-like environment easily at your home by laying down, breathing in the fragrance, and spray again if desired.
Note: Don't spray it on your blissy pillowcase directly; it can generate straining.
The price of Blissy's sleep and pillow mist is $14.95.
Conclusion
We have all used those traditional pillowcases made of cotton or other fabrics, but if you want to get healthy and good sleep, then you must go for it cause blissy's 100% high-quality silk actually does what it claims.
These silk pillowcases are extremely delicate, so it requires extra care than the regular ones. Though its price can play a major role in making up your decision, if you are willing to spend that much amount, you will definitely get that relaxing experience you paid for.