StartMeStick Review 2022- The Best Plug-In Operating System?
In layman's terms, StartMeStick is a pen-drive-shaped device that claims to breathe new life into any old computer within a matter of minutes. To use, all one has to do is simply plug the device into one's PC and initiate it. Thanks to the fast, private, and secure operating system that has been pre-downloaded onto the stick, it allows individuals to make use of their old, beaten-down computers without any hassle at all.
Operational issues tend to create problems for almost anyone who owns a digital computing device. For example, it is estimated that personal computers after the first 1-2 years of their lifespan start to slow down considerably — be it due to virus infections, accumulation of bad sectors, or other such issues. Furthermore, repair costs associated with laptops and PCs are so high that a lot of people often tend to ignore any problems affecting their devices (thus leading their PCs to die out much faster than they ideally should).
What is StartMeStick?
StartMeStick is a thumb drive-shaped device that comes pre-loaded with a highly efficient operating system that can run all of the most popular apps that are used by people all over the world today. The company behind the StartMeStick states, "The original FixMeStick virus removal device was developed in 2011. Veterans of the computer security industry, Marty Algire and Corey Velan created a product that simplified the problem, so many of their family and friends were facing: removing computer viruses!"
Features Of StartMeStick
Plug and Play
According to the official website, one of the core aspects of StartMeStick is that it can make any dead, downtrodden computing device come back to life within a matter of seconds. All one has to do is simply plug the device into their PC's USC slot and initiate. Upon booting, the system automatically recognizes that a new operating system is available for use, and thus if one's hard drive data is corrupted or fragmented, one can quickly start again through the use of StartMeStick.
Good Connectivity
A highly underrated facet of StartMeStick is that it comes with a fully functional internet framework that allows users to conduct all of their online activities without any hiccups. To be a bit more specific, the manufacturer claims that through the use of StartMeStick, users can seamlessly surf a wide array of social networking websites, send out emails, conduct web searches, etc.
Portability
Thanks to its small, compact design, the StartMeStick can be attached to one's key chain and carried around with ease. It is worth noting that the device weighs just a few grams and can be used on multiple devices without any operational issues at all.
Uses Linux: Linux provides a fast, safe, and easy-to-use operating system.
High speeds and privacy: Since Linux uses very little processing power, it provides incredible speeds. Also, it offers plenty of privacy features and is highly regarded as one of the best.
Multilayer VPN: Using multilayer VPN, you can surf the internet with complete network secrecy. The result is that you can protect your browsing, your applications, and your online presence, and you can also access blocked websites.
Waterproof, dustproof, and shockproof: water-resistant, dust-proof, and shockproof devices are made for durability.
Reuse old PCs: If you have an old PC with low specifications that simply cannot run the powerful operating systems of today, you can use the StartMeStick to turn it into a usable computer by installing a simple Linux operating system on it.
Technical Specifications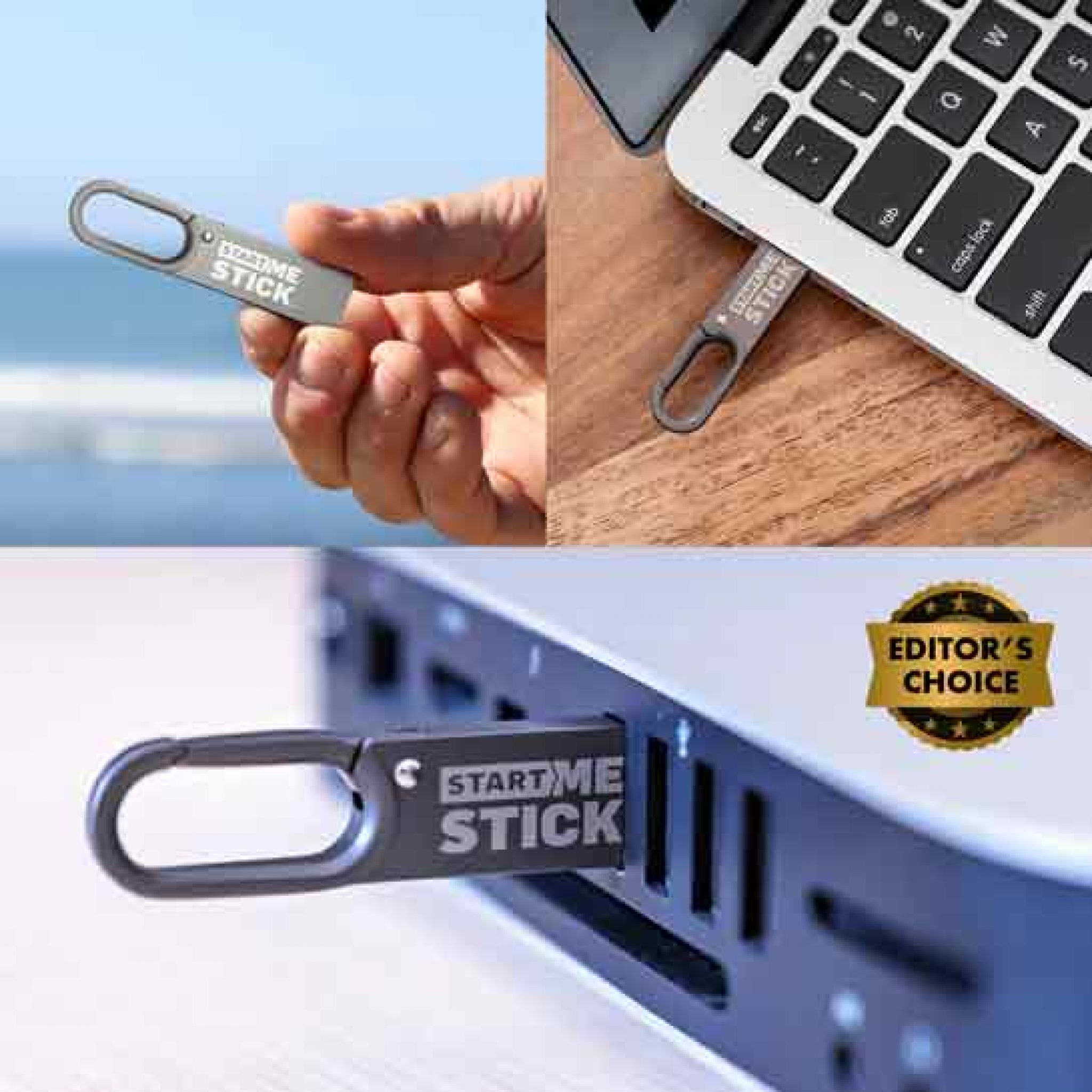 PROCESSOR
PCs: All PCs made after 2001.
Macs: All Macs made between 2006 and 2017.
Memory: 1 GB RAM
USB*: Requires a USB port to plug into
Internet Connection: You can connect your Bluetooth devices to your StartMeStick. However, the StartMeStick requires the use of a wired mouse/keyboard for Bluetooth device set up each session.
Pros
StartMeStick provides users with a highly secure and private Internet connection.
It can run on blank devices and does not require an OS.
Windows, macOS, and other operating systems are all supported.
Waterproof, shockproof, and dustproof are the characteristics of the device.
Cons
There isn't much you can do without the internet.
In order to use Bluetooth devices paired with it, you need a mouse or keyboard.
Why Choose StartMeStick?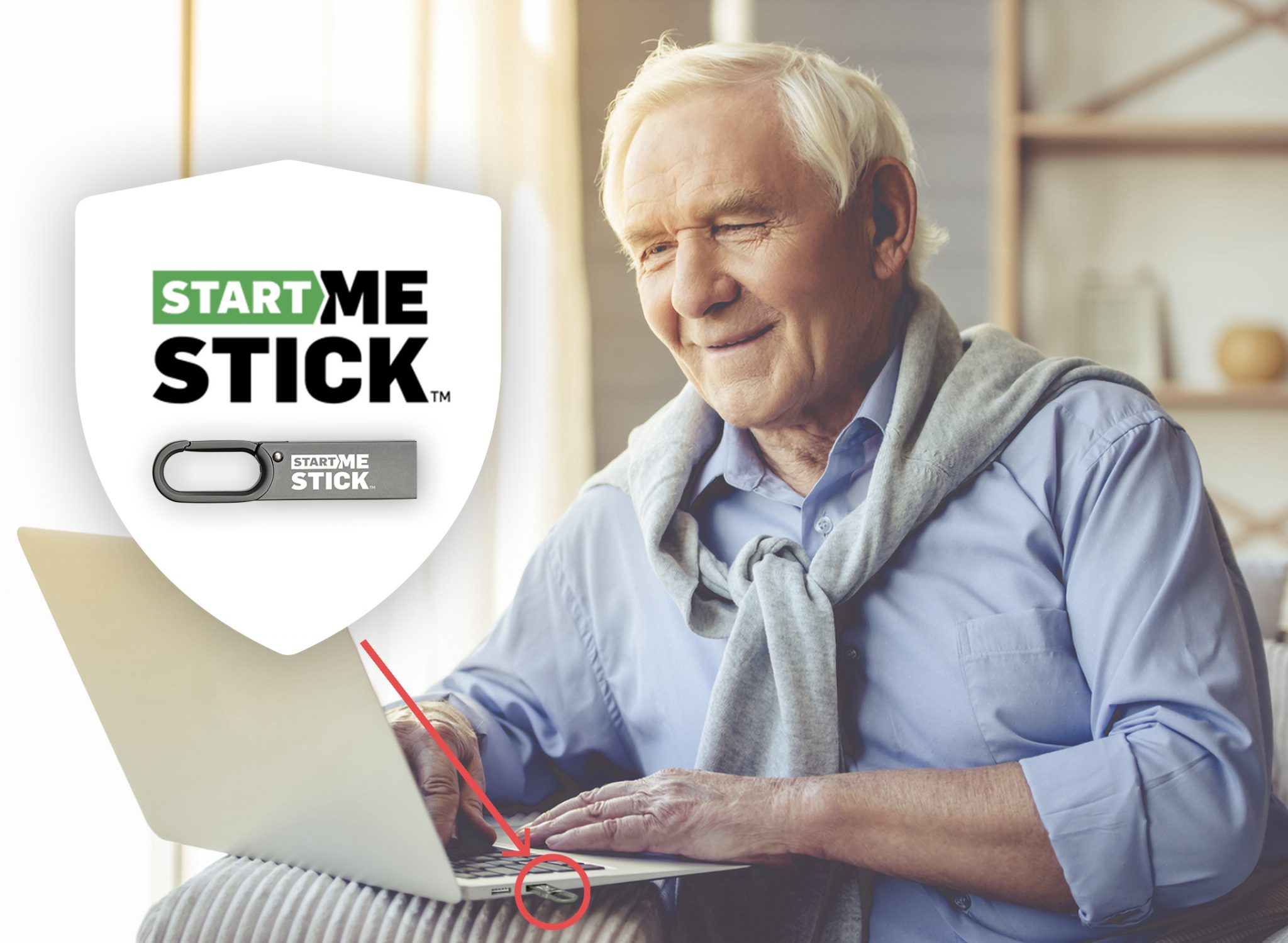 As most of our readers are aware, at the start of the year (around Jan 2020), Microsoft ended support for Windows 7, leaving nearly forty percent of the world's PCs prone to a whole host of security problems (such as malware, spyware, viruses, trojans, etc.). Thus, for people having to face such issues, the  StartMeStick provides them with a fantastic quick-fix solution  — thus allowing them to use their computers/laptops too, at an extremely affordable price.
In addition to this, from an environmental perspective, it is worth noting that some researchers over at the United Nations recently revealed via a report that since the year 2000, the total amount of e-waste that is being generated globally has increased from 20 million to 50 million tonnes. If that wasn't enough, it is also estimated that by the year 2050, these waste production numbers will reach approximately 111 million tonnes per year. Through the use of StartMeStick, individuals can do their bit to reduce this increasing amount of e-waste.
Technical Considerations
Although there aren't many high-powered technical requirements associated with the StartMeUp stick, there are a few aspects that are worth noting regarding this device. For example, the device should ideally be used to power personal computers that have been manufactured after the year 2001 (or on Macs made between 2006 and 2017).
However,  it is recommended that any computer that the StartMeStick is used on has at least 1 GB of RAM available as well as a functional USB slot. Other requirements include:
Any computer that the StartUpStick is used on should possess a stable internet connection.
Users also have the option of connecting their Bluetooth devices to any StartMeStick.
To make full use of a StartMeStick, users are required to own a wired mouse as well as a keyboard for initiating the Bluetooth device setup at the start of each session.
Thanks to its use of COB (Chip on Board) tech, StartMeStick is designed to be completely waterproof, shockproof, and dustproof.
StartMeStick features a capless design that allows users to clip on the device to their keys.
For Whom Is StartMeStick
With a StartMeStick, you can share devices, computers, or hotspots with family members and children. Users can take advantage of the following features:
You can use StartMeStick and opt for a private and safe session
Since StartMeStick uses its own operating system, you can easily use this computing device to speed up your computer if it is running slowly.
In this way, your kids or family members can easily access the internet without having to worry about your machine. StartMeStick will protect and maintain your system.
The StartMeStick is definitely not for those with strong machine maintenance skills. These individuals will take their own course of action. So, it is ideal for those who are unfamiliar with computer information practices, as well as those who may need to share their online space and devices with others.
Where Can I Buy StartMeStick?
The best and most convenient way of purchasing is by visiting the official company website —  https://www.getstartmestick.io
At the time of writing this review, there are three purchase options that users can choose from:
30-day trial: This option is priced at $9.95 (plus $4.95 shipping). It allows users to gain access to the device for 30 days on any Windows or Mac-based device.
One Year: This option can be availed of for a sum of $69.99. There are no shipping charges involved.
Two Years: This option can be availed of for a sum of $99.99. There are no shipping charges involved.
Payments can be made via a host of safe and secure methods, including PayPal, MasterCard, Visa, etc. Lastly, it is worth mentioning that the folks over at StartMeStick provide users with a 45-day money-back guarantee on all of their non-Trial products.
Conclusion
Adding a keychain carabiner to a keychain is a thoughtful design choice since it increases the chance that you won't lose it. In that case, you shouldn't have a problem since it doesn't store any information about you (outside of the Wi-Fi networks you have logged into).
StartMeStick's worth depends mostly on whether you still have an old computer lying around. When you only need the basics to get online, it gives someone in the house access to the Internet while you wait for a new one. This is really the only way to justify the upfront cost of something like this. As your old computer grows increasingly slow, you cast it aside but haven't given it the heave-ho yet. StartMeStick makes the most sense in this scenario.