BeautyStat Cosmetics Review – Is it legit?
In today's time, the cosmetic and skincare industry is on an all-time rise. With the market full of a wide array of products to choose from, it can get pretty tedious to opt for one product that can work the best for you. Here in this article, we will be talking about a brand which is known for its amazing products and incredible reputation in the market. The brand is none other than BeautyStat Cosmetics.
Keep reading this curated post till the end to know everything about the BeautyStat Cosmetics.
Knowing More About BeautyStat Cosmetics
BeautyStat Cosmetics is known for creating an array of skin care products with an incredible and innovative formula that can offer you long-lasting results and instant radiance by making your skin smoother and even as well as diminish the dark spots, wrinkles, and fine lines. Their range of products will amaze you with how healthier they can make your skin look. It is absolutely safe and perfect for skin of any type. Their products have the quintessential blend of ingredients that can illuminate the skin and make the user feel rejuvenated and refreshed.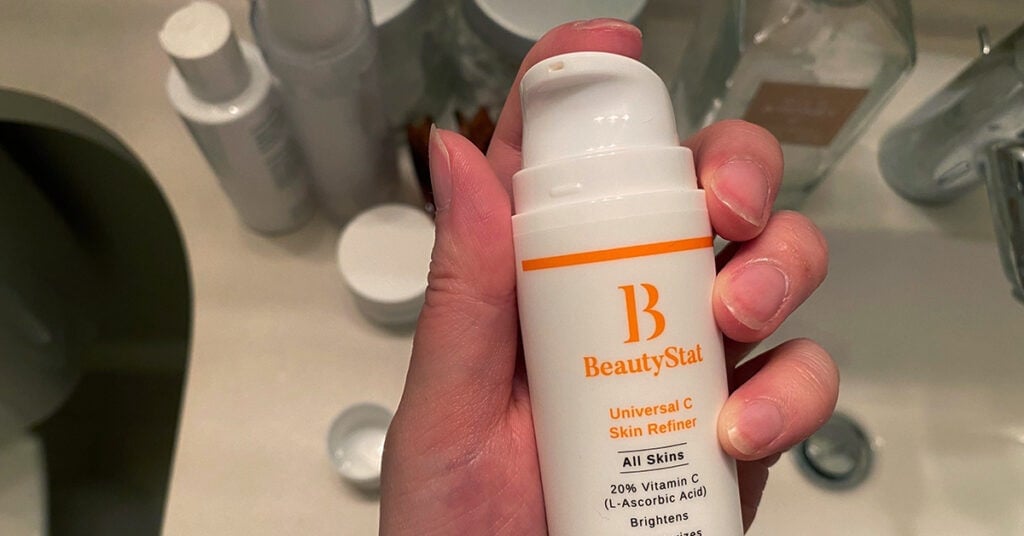 The creator of this revolutionary range of products is Ron Robinson, a famous chemist and a popular face who is regularly featured and quoted in the tv beauty segments and beauty magazines. He is dedicated towards researching the beauty technology as well as ingredients and is pretty much respected by the beauty influencers, editors, and journalists.
The brand works towards their sole mission of looking around for the novel technologies and ingredients. They continuously look forward to developing innovative and new products that can offer great results to the consumers.
Now that we have an idea about what the brand is let us get down to the products offered by the BeautyStat Cosmetics.
Product Range
1. Universal C Skin Refiner
This serum is the most famous product of the BeautyStat Cosmetics. It contains 20 percent pure Vitamin C (L- Ascorbic Acid). Its encapsulated and patented delivery system ensures that there is no degradation in the formula or color. It also claims to promote immediate improvement to the radiance and smoothness of skin as well as improve its texture and tone by reducing dark spots, wrinkles, and lines. The product can work well for almost every skin type, including the sensitive ones.
2. Universal Pro-Bio Moisture Boost Cream
This lightweight facial moisturiser can work for all the skin types. It claims to help the skin in maintaining the optimum level of moisture and also keep it hydrated, supple and smooth all day long. Its key ingredients include Ganoderma, pomegranate sterols, ceramides, and hyaluronic acid.
3. Universal C Eye Perfector
A lightweight anti-aging eye cream that has a pretty velvety texture. It combines about 5% pure vitamin C (L-ascorbic acid) along with CMH Repair Complex (Hemp Oil, Magnolia, Caffeine) and claims to immediately hydrate and soften as well as reduce the wrinkles and fine lines. It also fades the dark circles, reduces puffiness, brightens the skin as well as soothes the irritation and redness.
4. Universal Moisture Essence
This 100% pure squalene oil claims in helping to replace the sebum that naturally occurs in the skin. It supports the skin barrier, helps in boosting moisture retention, as well as relieves dryness. It also claims to help in reversing the UV damage, fading the hyperpigmentation, as well as reduce wrinkles.
Key Features About The Brand
In this section, we will be listing the key features of the BeautyStat cosmetics.
A. Products With Instant And Long-Lasting Results
If you ever used other products with Vitamin C, you may have noticed that after a while, they tend to lose their potency, and thus, the results coming out of it weakens over the weeks as compared to what users get in the first week of use. If reviews by the skincare enthusiast, bloggers, and makeup artists are to be believed, the products by BeautyStat Cosmetics has the potential of completely changing the skin.
The product range is created by a cosmetic chemist and is completely dermatologically approved. Their products don't lose potency because of their distinctive Patented Delivery system. This makes it different from all the products there in the market. Other products tend to lose their potency because as they open up, they react with the oxygen in the air. On the other hand, the products by BeautyStats cosmetics stabilize the vitamin C, and this way, you always get the best result irrespective of the number of times you use it. The results are instant and last for a long time, even till the very last drop you use; it can make your skin look flawless, tighter, and bright. Their website is full of testimonials from satisfied consumers.
B. Transparency About The Products
While other products in the market claim about having vitamin C, you do not get complete benefits. This is because of the other added fillers in their products. But BeautyStat cosmetics are renowned for their transparency about their products. They put into use various quality ingredients that help in revealing a younger-looking skin. The prime ingredients used by their products include Cyclopentasiloxane, L-ascorbic acid, Isocetyl Stearate, Squalane, Polysilicon, Petrolatum, Camellia sinensis leaf extract, Dihydroxybutanedioic acid, and a lot more.
C. Suitable For Every Skin Type
Irrespective of what your skin type is, their products have the potential of balancing out the tone of your skin and reveal a better-looking radiant skin. If the reviews are to be believed, users of every skin type find their products great.
Pros and Cons of BeautyStat Cosmetics
Where To Buy BeautyStat Cosmetics?
The products by BeautyStat cosmetics can be directly purchased for their website. Their payment method is pretty simple as they accept almost every major card and PayPal too.
Conclusion
All in all, products offered by the BeautyStat Cosmetics are highly recommended. The product has the potential of working for all skin types. It can glide very well and also work well with makeup. It does not cause any cakey buildup and is pretty light and airy. BeautyStat cosmetics can work great for you all day long.